The Miyazaki Kobe Car ferry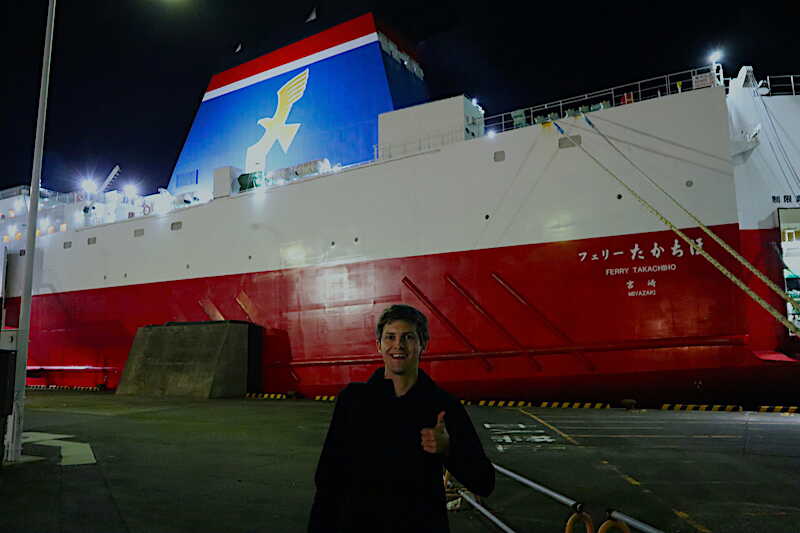 The Author in front of the Ship Takachiho
Two colossal boats. Leaving every day at night from Kobe and Miyazaki, the two ships Takachiho and Rokko which entered service this year in 2022 get you from one place to the other in style.
The big alternative for people without cars is flying, which might seem cheaper, but we save two hotel nights, avoid airports and arrive in the morning almost in the center of town.
1.5 hours to one hour before departure you check in and buy your ticket. Important is to board 20 minutes before departure otherwise they leave without you.
Foot passengers can enter 1 hour before departure.
I stayed in the dormitory, which are 4 beds with curtains on each side. This is the second cheapest class, but I found it comfortable and private enough for my solo trip, as it is used only for sleeping.
Higher budget guests receive their keys at the information counter after boarding and can then enjoy privacy in their luxurious rooms ranging from many cozy single rooms to double suites with own bath.
The restaurant opens from that time until 8pm. The 1600 yen tasty buffet dinner is a great deal. You can bring food on board (hot water, microwave is provided) or buy food and (non-)alcoholic drinks from a vending machine. Right after boarding you can take a bath on the ship, which is open until 10pm and then again from wakeup time until arrival. Japan has smaller onsen in buildings than the one on this ship. If onsen is not your thing, there is a 24 hour shower room. Work and play can be done at common desks with windows. Next to them are doors leading to the deck, with great views when arriving and departing. There you can wave goodbye to friends and family or the dock workers who wave back.
10pm is lights out, however you can roam the boat after. Power outlets are available where you sleep or at each desk on the 3rd floor. WiFi is available for free 40 minutes each day per device (if I understood this correctly), however the boat is often outside the reach of the antenna. Don't expect to be always online, but it's enough to look up a couple of things.
photographing the ship's departure, eating and bathing took enough of my time, that I didn't miss the lack of 100% connectivity. I did see other's who were more concerned, but downloading a few podcasts or books should solve that.
The next day starts with announcements for breakfast and a bath. Soon after you find yourself at your destination relaxed and ready for discovering another part of Japan.
How to book:
Website or call. Reservations made by phone can be changed, whereas web reservations have to be made 4 days before and cannot be easily changed.
This blog post is not sponsored - I just liked the ride.
Notes
There are coin lockers (return type 100 yen) in the bath and base floor. Would be nice to have lockers next to the dormitory
There is space and lockers fo where r big luggage and even surfboards
There is a pet room
You can't access your car during the voyage because of the law.
Vegetarians: There was salad and spaghetti at the buffet.