parkrun in Miyazaki City - A weekly running and walking event since 2019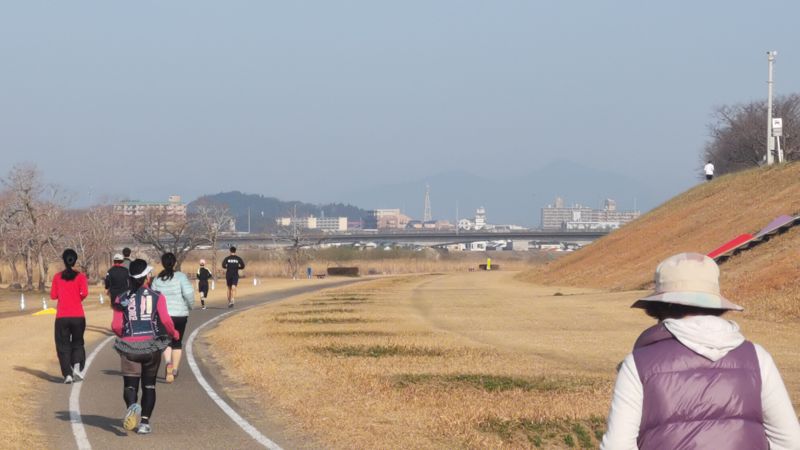 Japanese site: 大淀川市民緑地parkrun
E-Mail: [email protected]
Facebook: 大淀川市民緑地 parkrun - Oyodogawa shiminryokuchi
Cost: free!
Event Director: Sarah Barnes
Organizer: parkrun Japan through Volunteers
Who: Everyone. Miyazaki parkrun is a very casual inclusive walking and running event for all ages.
Date: Every Saturday, 08:00 start until about 10:00.
Parking: Tenmabashika Parking Lot usually opened by volunteers by 07.30 - There is only one entrance leading down to the parking by car, which is next to the bridge.
Coordinates: 31°54'36.3"N 131°24'41.9"E
Holidays: Might not happen on Japanese holidays or very bad weather.
Sponsoring: Sumitomo Life Vitality and Japan Sports Agency
Accessibility: parkrun aims to be as accessible as many people as possible. The course is mostly flat and paved, but can flood in rain and might not be that even. Please contact us for more information, as we are happy to assist.
If you're planning a trip to Miyazaki City in Miyazaki prefecture, be sure to check out parkrun, a free, weekly event that takes place at the Temma Bridge next to the Oyodo River.
The first official parkrun in Miyazaki happened in 2019-09-12 with great interest from local TV stations and is going on in 2023 as well!
parkrun is a global event that takes place in over 20 countries around the world, and offers a fun and inclusive way for people of all ages and abilities to get active and enjoy the great outdoors. Whether you're a seasoned runner or just starting out, you'll find a supportive and welcoming community at parkrun.
The event takes place every Saturday at 8 am, and is open to everyone. The route is 5km long and follows the beautiful Oyodogawa River. It is mostly flat and is suitable for both runners and walkers. If you prefer to walk instead of run, that's totally okay! The important thing is to get out there and enjoy the fresh air and beautiful scenery.
Free parking is available under the bridge for the duration of the event, so you don't have to worry about finding a spot. Just come on down and join in the fun!
If you're looking for a fun and healthy way to spend your Saturday morning in Miyazaki City, be sure to check out parkrun. It's a great opportunity to explore the city, meet new people, and get some exercise all at the same time. And best of all, participation is free!
How to get a barcode
If you wish to receive a time, which is optional, please register for a barcode online. We can scan it off your smartphone, but it might be easier if you print and bring it.
Updates on Events
First timers: please contact us on the e-mail adress for updates on events.
Multilingual parkrun
We have Japanese, English, German and sometimes even French and Bengali speakers, making this a truly international event. We are also happy to have all generations participating with very diverse experiences.
An example parkrun
Parking opens at 07:30, after being unlocked by one of our volunteers.
Meetup before 08:00 on Saturday. However, we might start a bit later, especially in winter. Fun fact: UK parkruns start an hour later, but Japan is very hot in Summer later in the day. Our parkrun is a very tight-knit one, with 10-20 participants.
08:00 to 08:10: Start. (If you miss the start, come anyway, but we might not be able to give you a time.)
By 08:30: The fastest runners finish, hopefully enjoy the sun, talk and recouperate. We scan the barcodes at the finish line
By 09:10 parkwalkers usually finish.
After a sucessful walk and run in the sunny side of Japan, we talk and sometimes have small parties.
We usually have left by 10:00
Links
Hi, Andi here!
As a long time volunteer for parkrun Miyazaki, I hope this unofficial website, helps you learn more about Miyazaki parkrun. Come by and say hello!