Miyazaki Restaurateurs: Introducting Miyazaki's Restaurant Owners
In my time in Miyazaki, I have met some interesting restaurant owners.
Rocky and Kotoe from 6 RACCOON Food Truck and soon Restaurant
Hailing from Toronto and Tokyo, Rocky and Kotoe arrived in late 2019 to start a restaurant in Miyazaki. Kotoe came without knowing anyone and Rocky had zero Japanese, but they had great enthusiasm and experience in the food business. Just as they were getting ready, the world suddenly changed overnight. Undeterred they changed plans and built a food truck or kitchen car as it is called in Japan. The locals immediately embraced their concept and their hard work paid off.
There was even a TV appearance on UMK - video here with an appearance of yours truly.

Me and Rocky from 6 RACCOON having a talk in front of his food truck in Kisakihama.
In 2023 they are finally realizing their dream of opening a restaurant.
Chef Bernardo from Mr. Perez Kitchen - Mexican and New York Cuisine
Chef Bernardo is a great host with a warm smile and an warm oven ready to serve you authentic mexican food. Born in Oaxca, Mexico, he worked in an Michelin-starred Japanese restaurant in New York. In 2009, he moved to Miyazaki, where his wife is from. In 2019 they opened a cozy Mexican restaurant in Miyazaki City.
Koji Muraoka (村岡 浩司) from Kyushu Pancake - Creating a Kyushu that the world admires
Koji Muraoka's father founded a sushi restaurant in 1966 starting on 16 square meters on the banks of the Oyodo River in downtown Miyazaki. They came up with an original lettuce roll. Koji Muraoka with the Ippei Group, then started out and opened the first Tully's Coffee franchise in Kyushu and is now operating four stores in the prefecture. As the amount of stores increased, Miyazaki's economy was shook by animal diseases and a volcanic eruption in 2010. Turning disaster into opportunity, he went and thought about how to create a strong sustainable business. In 2011 realizing that Kyushu is usually divided into prefectures, but would be stronger as a unit, which would then also help Miyazaki. So he thought of a product to create with the Kyushu branding. He recalled that he was alway happiest as a child, when his parents took family to eat pancakes. After seeing an organic pancake mix in an hawaiian supermarket, he had the idea to combine ingredients that already grow in different prefectures of Kyushu to make tasty pancakes. And so Kyushu Pancake was born. At first it was only sold as a product, but it proved so popular that stores in Japan and eventually overseas were opened.
In 2020 with food businesses suffering, Mr. Koji Muraoka was on the streets personally selling takeout food working together with other restaurateurs. When I bought a bento from Mr. Muraoka, I didn't know who he was, but his English ability and big smile immediately made a good impression on me.
Sources
Jockey's Sports Bar Orenge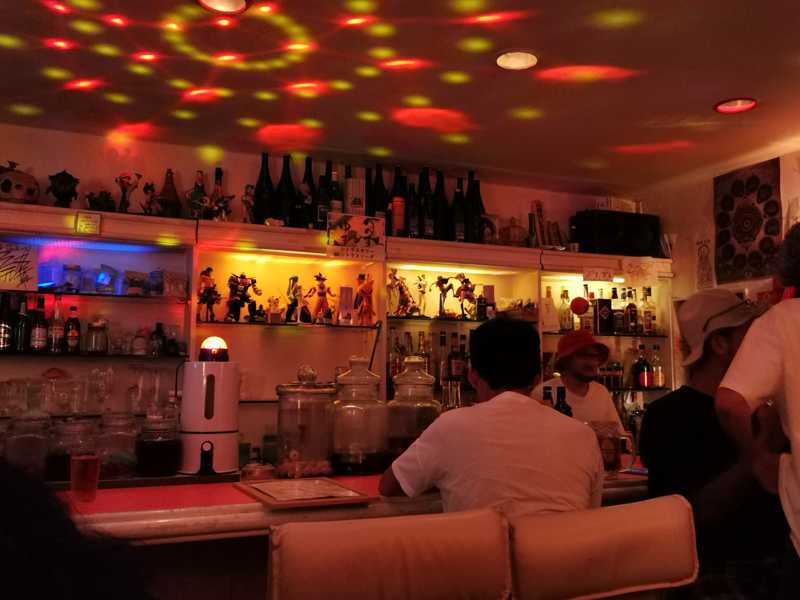 Jockey has traveled the world, loves sports and being a good host. A friendly family man and bartender, he's been runing his bar in downtown Miyazaki for over 10 years now.